Don Tullman is a man who is highly respected and highly regarded by all who work for and with him. As Mr. Davidson noted when announcing his selection as Guardian's 2000 Employee of the Year, "Don is a true leader,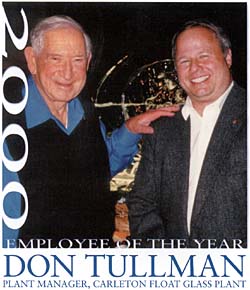 leading first the Kingsburg, California float glass plant and then the Carleton, Michigan float glass plant to growth, prosperity and success. He bridges gaps between people, builds respect among his employees, and nurtures a trusting work environment, Don Tullman always puts people first and measures his success by the success of his people."
In the Beginning
Don Tullman never imagined he'd have a career in the glass industry. After graduating from Rutgers University in New Jersey, where he majored in pre-law, Don decided law school wasn't for him and began teaching. He spent the next several years teaching history and psychology classes, as well as socially and emotionally disabled kids, at a New Jersey high school. He also wrote two psychology course plans that are still taught in the school today. He lent his physical talents to the school's athletics department, coaching three different after-school sports teams -football, basketball and baseball. During that time, Don also attended Montclair State University in New Jersey and did master's work in child psychology.
Like all teachers, Don was extremely busy nine months of the year. But when June came, he needed summer work. That's when his knowledge of fast-pitch softball got him a part-time job in the glass industry. Thatcher, a glass bottle plant in Wharton, New Jersey, needed help on the shipping docks and a coach for their softball team. Don got both jobs.
Don continued to spend the next three summers working at the plant. After his third summer, he was asked to stay on full-time and manage Thatcher's melting department. While it was a tough decision to give up his career in teaching, Don saw more opportunity for himself at Thatcher and took the job. Five years later, he became the company's youngest plant manager, overseeing 750 employees who made glass bottles of all kinds. He stayed with the company for 10 years before joining Guardian.
The Move to Guardian
In 1980, Don got a call from a recruiter who was a friend of both Chuck Croskey and Russ Ebeid. "Don was my longest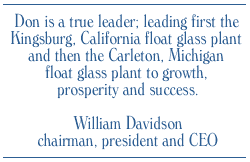 recruiting effort -taking nearly four years in fact," remembers Croskey, Guardian group vice president. "When I began talking with him, he was already a plant manager and furnace guru. He was very successful in his previous position and might still be there if not for the bottle industry ills, and my persistence. In Don, I saw a person who could become a great asset for our company and I was determined to have him join our team. "
"While I wasn't interested in leaving Thatcher, I talked to Chuck and Russ and listened to what they had to say," added Tullman. " Over the next four years, we continued to touch base every quarter. When the bottle business began heading south, I realized it was time to move on."


BACK TO MAIN | NEXT